Joining Yakisoba Guild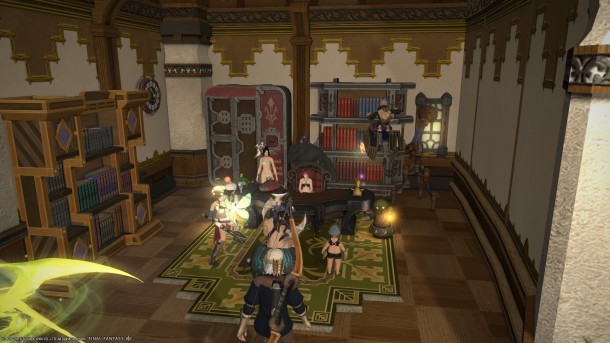 Yakisoba Guild is RECRUITING!
We are recruiting more dedicated members for the upcoming Heavensward Expansion! If you are a new player looking for a Free Company, or an existing player looking for an active community or a returning player hoping to get ready for Heavensward, we are probably your best bet!
Yakisoba Guild is a Singapore/Malaysia/SEA guild founded in 2007, with a strong working adult community that has not weaned off our love for gaming. We're not exactly hardcore, nor are we really casuals. FFXIV is our current main MMO, and we foresee us staying here for a while. SE has been releasing fantastic patches every 3 months.
Yakisoba has 2 guild houses in Limsa Lominsa, a dedicated officer team that has worked closely with Tsubaki for many years to serve the Yakisoba family a dedicated Mumble server and have offline gatherings whenever possible. In fact, we are hosting our very next international gathering end of this year! Our last international gathering was a huge success.
Even if you are not from this side of the world, and you don't mind our local slangs and accents (SINGLISH LAH) you are more than welcome here! Our timezone is GMT+8, and our peak number of players are usually after 7pm.
For New Members, this is how you join Yakisoba in FFXIV:
1. Make sure you have joined our Facebook group: https://www.facebook.com/groups/yakisoba/
Join our facebook group is mandatory, this is our means of communication out of the game and we post guild-related updates, gaming and sometimes non-gaming stuff. 
2. Fill up your details on the Yakisoba FFXIV rollcall. Details of the rollcall is on the Stickied Post on our facebook.
3. Make a character on Tonberry (JP) server. Send an application in game to Yakisoba and Send tell (/t shortcut) to the any of the following officers and tell us your rollcall number.
Recruitment Officers – Precia Solidor or Inadequate Paladin
Guild Leader- Tsuu Chan
Patch 2.16 added a new feature where players can request to join a Free Company. Search for Yakisoba and send an application to us! If you are not sure how, read here!
4. Get invited to the Free Company and Linkshell.
5. When you have enough money, send 10k gil to 'Tsuu Chan' as guild fee. Must add as friends first. Or you can deposit it to the guild chest which is located behind the Mender in the guild house.
6. Also download Discord (a voip program for communication). Yakisoba Discord server IP can be found on our facebook sticky post.
7. We have 2 Guild Houses, check the our awesome medium and small houses in Limsa Lominsa. You can teleport directly to our guild house using your teleport skill. 1st Location – Mist is our guild house.
8. Welcome to Yakisoba!